THE MOVING EYE: languages of the Italian kinetic art of the '50-'70
Date: January 14th – February 14th, 2016 – Opening January 14th 2016
Location: MUO – Museum of Arts and Crafts – Zagreb
Curator: Micol Di Veroli – Massimo Scaringella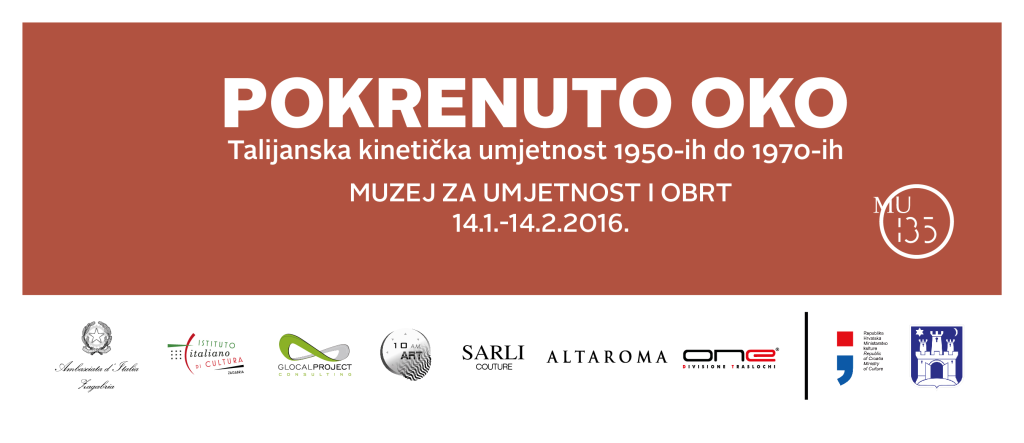 After various stages across South America, in the museums of contemporary art of Lima, Santiago of Chile and Quito, the show The Moving Eye, languages of the Italian kinetic art of the '50-'70, lands in the museum MUO – Muzej za umjetnost the obrts of Zagreb. Curated by Micol Di Veroli and Massimo Scaringella and realized by Glocal Project Consulting, in collaboration with ALTAROMA and 10 A.M. Art, this important retrospective of kinetic and programmed Italian art will open the next January 14th through February 14th. Supported by the Italian institute of Culture of Zagreb, The Moving Eye, languages of the Italian kinetic art of the '50-'70, will introduce 50 works spanning through paintings, collages, video, sculptures and other objects realized by key artists of the italian kinetic scene, by the like of Bruno Munari, pioneer of creative researches on perception and great designer, and other artists groups like "Group T" (Giovanni Anceschi, Davide Boriani, Gianni Colombo, Gabriele De Vecchi, Grazia Varisco), "Group N" (Alberto Biasi, Edoardo Landi, Toni Costa, Ennio Chiggio e Manfredo Massironi) , "Group 63". The exhibition will feature ten designer clothes made by Fausto Sarli, to highlight the connection between art and fashion in those years.
Making Of "The Moving Eye"
The choice of Zagreb as the first European stage for this exhibition is not accidental: at the beginning of sixties the Croatian scene is empowered by a creative wave that in fact generates a new approach to the artistic production and to the critical vision. New forms and concepts are developed in order to stimulate the free thought around the function, the meaning and the role of art inside the contemporary society. The city becomes a melting pot of ideas and creative behaviors that shortly afterwards influenced the world. The heterogenous energies of Munari, Group T, GRAV and others that from the end of the fifties had reunited a great number of different artists of all the globe, land in the Balkan peninsula. In 1961 the exhibition "Nove Tendecije" (New Tendencies) opens in Zagreb: the first of four exhibitions that show artists with similar intents but with heterogenous aesthetic results. A real summit of the new visions of the period. The Moving Eye, languages of the Italian kinetic art of the '50-'70 it's not one of the most important retrospective on kinetic and programmed Italian art but also the natural tribute to a city that started a new artistic experimentation and saw the final consolidation of this movement internationally.
Micol Di Veroli