ROMA AETERNA: masterpieces of Roman sculpture from the Dino and Ernesta Santarelli Foundation.
Date: Jun 3rd 2019 – Nov 4th 2019 Location: The National Museum – Lubiana, Slovenia.
Date: Dec 10th 2019 – Feb 29th 2020 Location: The National Gallery – Tbilisi, Georgia.
Date: Mar 17th 2020 – Sep 11th 2019 Location: City Museum – Novi Sad, Serbia.
Curator: Daniela Ricci.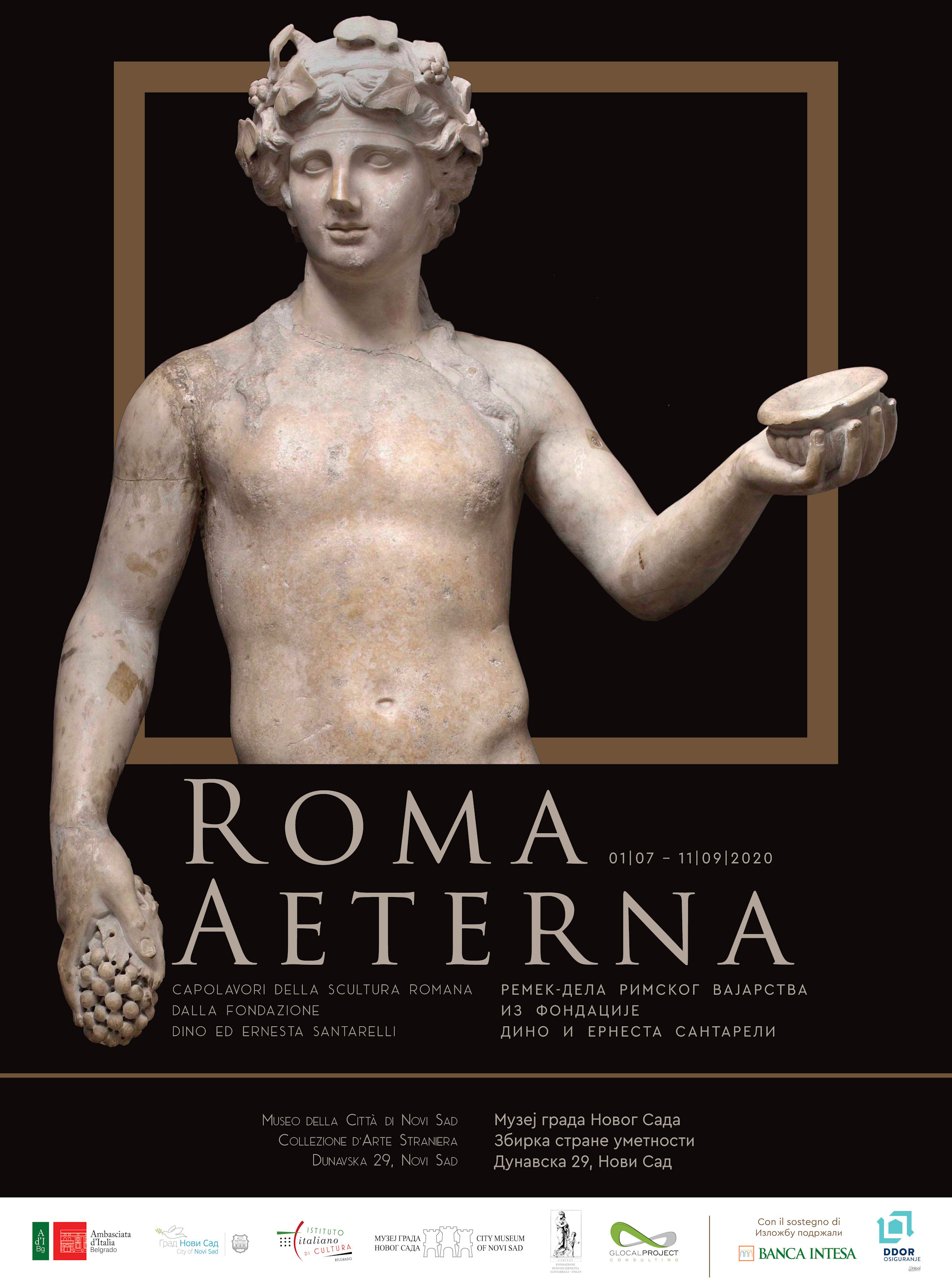 The Roma Aeterna exhibition began its tour in the large hall of The National Museum of Slovenia, continuing to Tbilisi at the Georgian National Museum, closing at the National Gallery of Novi Sad.
34 precious sculptures from the 1st century BC to the 18th century AD, representative of the artistic and stylistic evolutions in Rome from antiquity to the Baroque, arranged according to a chronological criterion. The vast collection of the Dino and Ernesta Santarelli Foundation, from which the masterpieces on display come, renews a millenary Roman tradition widespread in the city since the Renaissance and which in turn dates back to a costume of the Roman aristocracy of the imperial age, linked above all to the needs of decorum and social ostentation that included the display of statues in their residences, mostly of Greek inspiration.
Renaissance Rome, from the mid-fifteenth century, supported that great historical and thought movement that had found its central reference in the study and forms of classical culture. The allegorical and moral reconsideration of ancient thought, subordinated to reabsorb the entire classical universe in the demands of religious faith, ended around the middle of the fourteenth century with Francesco Petrarca, determining the end of the Middle Ages and controversial, inaugurating an attitude that precisely in ancient Rome he rediscovered vital energies for a new civilization, which historians later identified in the Renaissance one.
The works on display have been selected with a common goal: to recall the persistence over the centuries of the heritage of antiquity, taken from the title Roma Aeterna. The project, supported by the Italian Cultural Institute, represents a significant example of partnership between the public and private sectors for the dissemination of Italian heritage throughout the world.
Making Of "Roma Aeterna"