PERCEPTION AND ILLUSION: Italian Programmed and Kinetic Art
Date: October 11th 2013 – December 8th 2013 – Opening October 10th time: 18:00
Location: MACBA Museo de Arte Contemporáneo de Buenos Aires – Av. San Juan 328, Ciudad Autónoma de Buenos Aires
Curator: Giovanni Granzotto – Micol di Veroli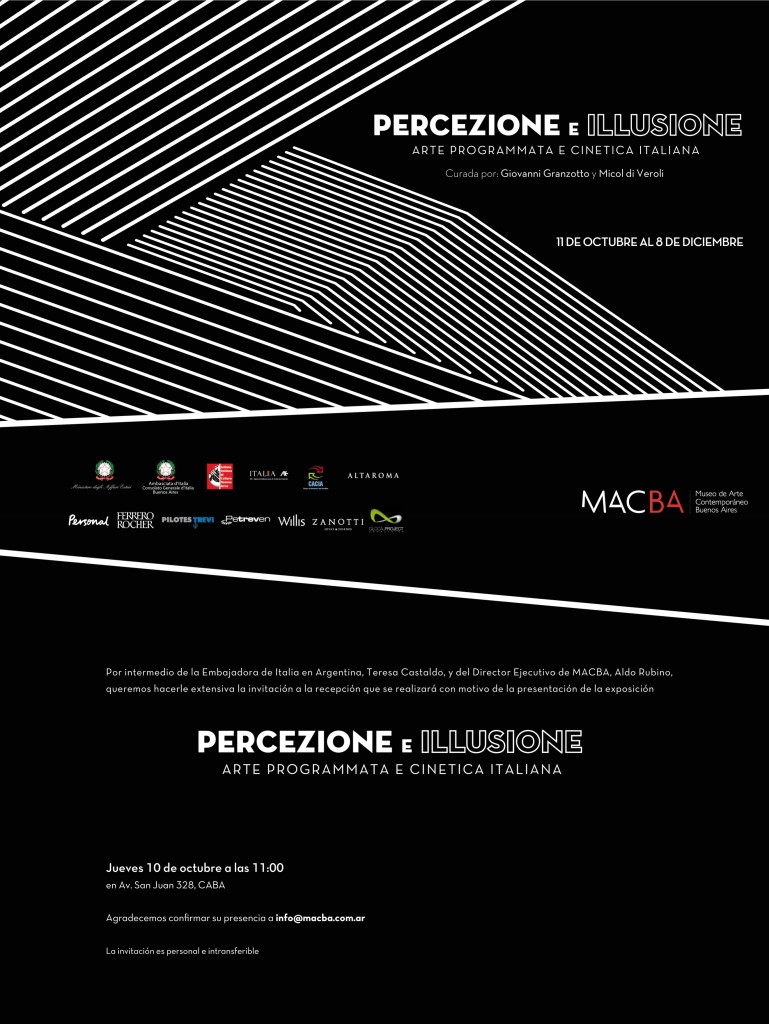 The exhibition has been curated by Giovanni Granzotto and Micol Di Veroli, organized by Glocal Project Consulting in collaboration with Altaroma and the patronage of Ministry of Foreign Affairs, Italian Embassy in Buenos Aires, Italian Culture Institue in Buenos Aires, the Chamber of Commerce Italy-Argentina.
Perception and Illusion has been considered one of the most important Programmed and Kinetic Art exhibition ever made in Latin America. During the last years, world of contemporary art realizes that Programmed and Kinetic Art is the cutting edge cultural movement that is truly and deeply innovating figurative art and not only a short lived phenomenon.
The Pop Art, and other movements gave space to a new art, which collects and represents an entire international movement with a unique and common concept to depict reality, soul, life etc. and not an extemporary form of art limited to time and geographic zones. Throughout methodologies and theories from world of Science and Psychology, the Programmed and Kinetic Art movement is based on the capacity to step further simply dynamism by generating sensorial sensation and highlight the role of viewer and his own perception in relation to psychologic form theory.
Italy is one of the most dynamic and inspired center of diffusion of this movement, in which a scientific and rationalistic soul and the religion of dynamism live together, since the years 50s.
Perception and Illusion: Italian Programmed and Kinetic Art displays more than 40 works realized by some of key artists of such period, starting from the experiments of Gianni Colombo and other members of T Goup (Giovanni Anceschi, Davide Boriani, Gabriele De Vecchi, Grazia Varisco) and Alberto Biasi together with the other components of the N Group (Ennio Chiggio, Toni Costa, Edoardo Landi, Manfredo Massironi). The exhibition includes oeuvres by Bruno Munari, Getulio Alviani, Marina Apollonio, Enzo Mari, Dadamaino, Elio Marchegiani, Paolo Scirpa and other artists.
The exhibition also includes 10 Kinetic Art Haute Couture dresses that belong to The Istituto Altaroma and have been loaned exclusively to Glocal Project.
Making of Perception and Illusion