OLHAR EM MOVIMENTO: linguagens da arte cinética italiana dos anos 1950-70
Date: March 17th – May 1st, 2016 – Opening March 16th 2016
Location: Instituto Tomie Ohtake – Av. Brigadeiro Faria Lima, 201, Pinheiros – São Paulo – Brasil
Curator: Micol Di Veroli – Massimo Scaringella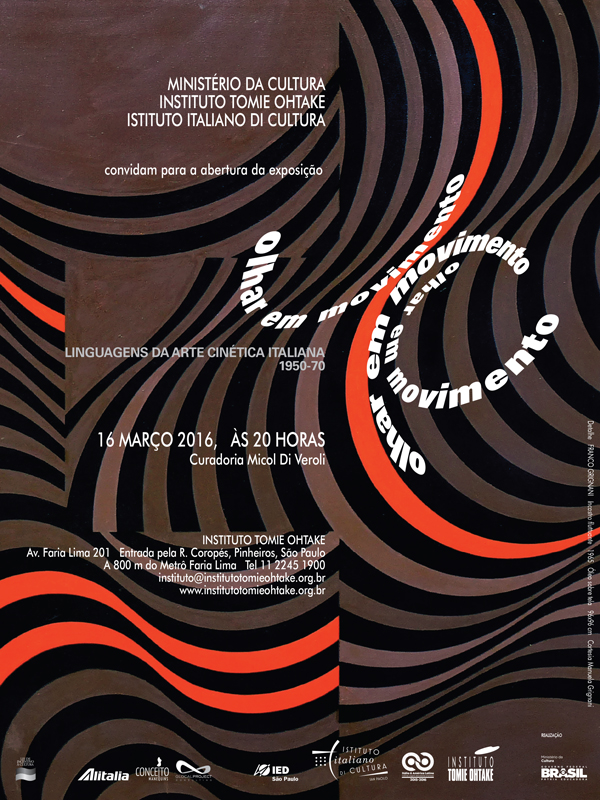 Following the outstanding success in Croatia, at the Arts and Crafts Museum of Zagreb, South America, at the museums of contemporary art of Lima, Santiago of Chile and Quito, the show The Moving Eye: languages of the Italian kinetic art of the '50-'70, lands in the Tomie Ohtake Institute of Sao Paulo, Brasil.
Curated by Micol Di Veroli and Massimo Scaringella and realized by Glocal Project Consulting, in collaboration with ALTAROMA and 10 A.M. Art, such remarkable retrospective of kinetic and programmed Italian art is continuing his tour around the world.
Supported by the Italian institute of Culture of Sao Paulo, The Moving Eye, introduces 50 works spanning through paintings, collages, video, sculptures and other objects realized by key artists of the italian kinetic scene, by the like of Bruno Munari, pioneer of creative researches on perception and great designer, and other artists groups like "Group T" (Giovanni Anceschi, Davide Boriani, Gianni Colombo, Gabriele De Vecchi, Grazia Varisco), "Group N" (Alberto Biasi, Edoardo Landi, Toni Costa, Ennio Chiggio e Manfredo Massironi) , "Group 63".
The exhibition will feature ten designer clothes made by Fausto Sarli, to highlight the connection between art and fashion in those years.