MICROMEGA: The Art of Wonder
Date: April 9th 2009
Location: Halles de Saint-Géry – Place Saint-Géry 1, 1000 Bruxelles
Curator: Dominique Lora – Micol Di Veroli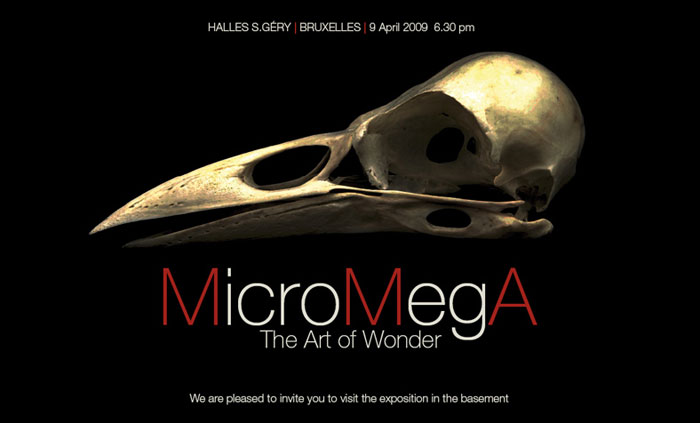 Micromega, The Art of Wonder is a project of exhibition descending (although not emulating) from the ancient models of Wunderkammer, the first examples of scientific knowledge through visual classification.
The "studioli", or "cabinets of wonders", to use the original definition, were meant to create spaces where a variety of fauna and flora samples, found in sites geographically and morphologically diverse (naturalia), were shown together with human manufacts (artificialia), with the idea of re(creating) microcosms that could reveal the corpus of knowledge and experiences that, from the discovery of Americas, had been exponentially emerging and increasing.
The show proposes an imaginative path through art and wonder. By providing the public (with a specific interest for kids and adolescents), with unusual visual stimuli and ideas.
Our intent is to stage an opportunity to interest the public to the visual logics and dynamics that influence the developments of contemporary cultures by fostering their curiosity. Under this perspective, we will propose, together with the Halles de Saint-Géry, a show supported by a serie of didactic resources aimed at engaging personnally and collectively the visitors.