COLORED VISIONS OF ANCIENT ROME: mosaics from the Capitoline Museums
Date: May 10th 2019 – July 28th 2019 Location: National Art Gallery – Sofia, Bulgaria.
Date: Aug 9th 2019 – Sept 29th 2019 Location: National Gallery of Armenia – Yerevan, Armenia.
Date: Oct 10th 2019 – Dec 10th 2019 Location: The National Gallery – Tbilisi, Georgia.
Curator: Claudio Parisi Presicce, Nadia Agnoli.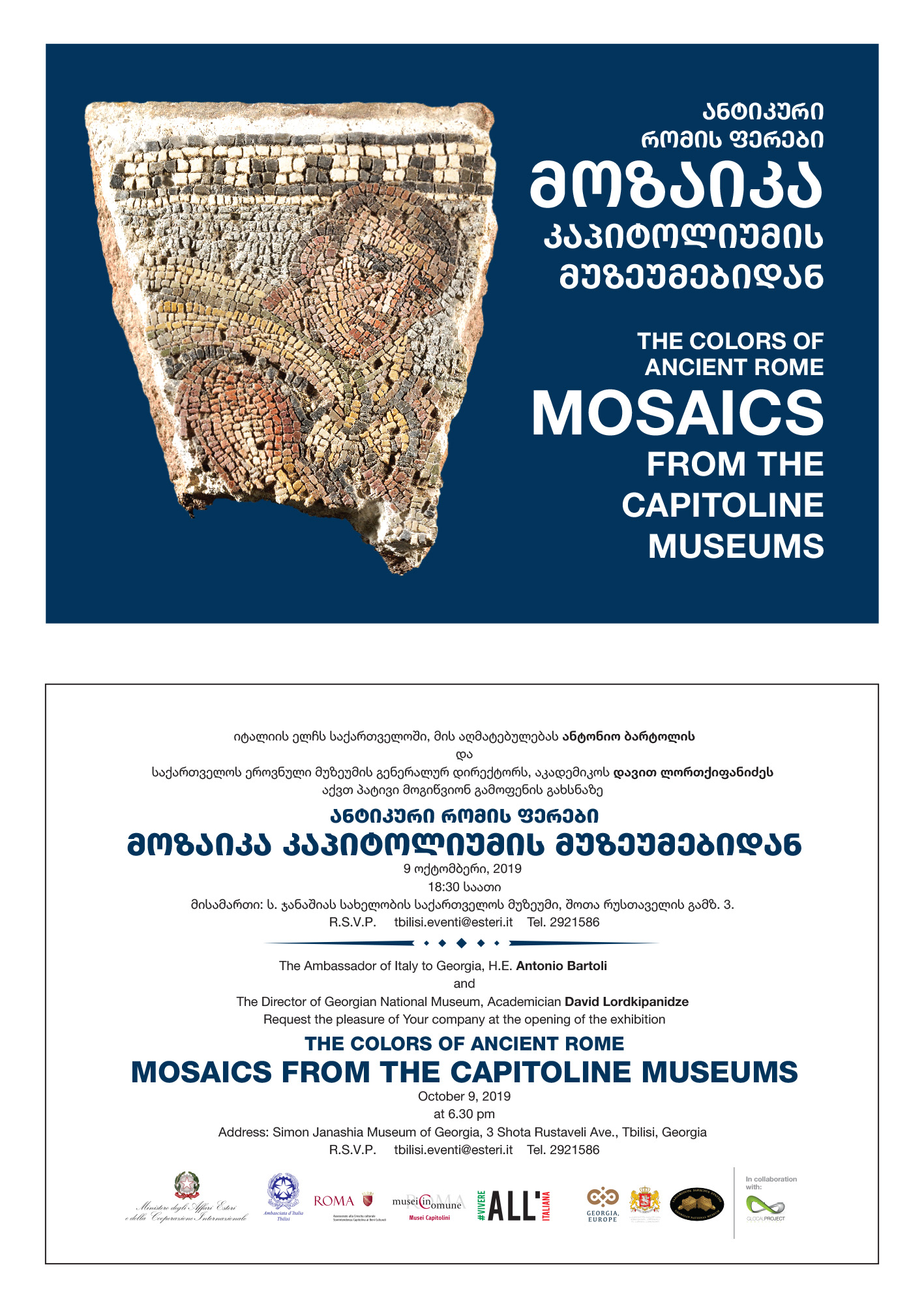 "Colored visions of ancient Rome: mosaics from the Capitoline Museums" begins its journey starting from Bulgaria where it was hosted at the Archaeological Museum of Sofia, entering the calendar of the Italian Festival in Bulgaria, continuing towards Armenia at the National Gallery of Armenia for finish in Tbilisi at the Georgian National Museum.
Twenty-one original mosaics from the collection of the Capitoline Museums in Rome, between the 1st and 4th centuries AD which, with refined decorations and richness of shades, refer us to a world that is also in some way globalized, in which the same models thousands of kilometers away, to share common feelings, to accelerate a process of identification towards the same values and principles.
The 21 mosaics on display, all found in Rome, cover a large chronological span from the 2nd century BC. to the 4th century AD and are therefore able to accurately attest to the technical evolution of the artisan shops, the extraordinary creative and executive skills of the workers and, at the same time, the changing fashions and tastes of clients from the Republican era to the late imperial age.
The collection on display offers not only the opportunity to appreciate mosaics of all types and techniques used over a period of time ranging from the Republican period to the late imperial age and recently restored, but also to reflect on the nature of the decorative motifs, multiple in sign and color and their affinity to our concepts of art and graphic design.
The selected works, among the most significant examples of ancient floor and wall mosaics, are part of the prestigious collection of the Capitoline collections formed between the end of the nineteenth and early twentieth centuries with the findings made during the great earthworks and excavations that they interested Rome in the aftermath of its designation as the new capital of the Kingdom of Italy (1870).
Making Of "Colored visions of ancient Rome"